5 Best First Dance Songs for a Beach Wedding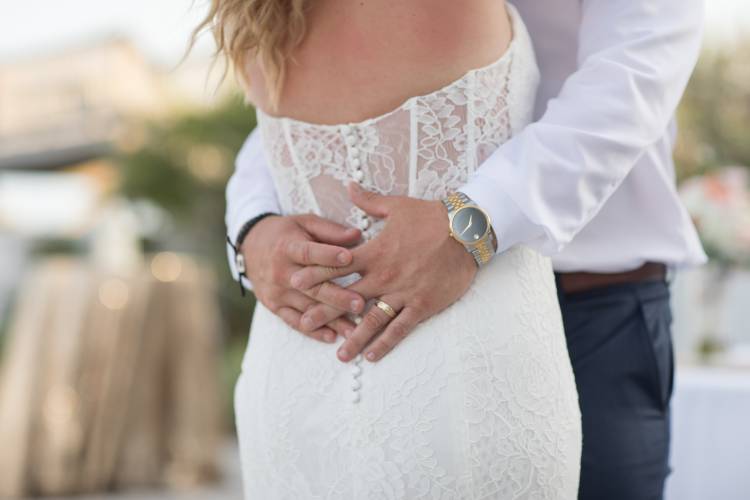 Beach weddings. They're often associated with nautical symbols, bold corals, teals and navy blue color schemes and for having the best wedding receptions on the sand under the moonlight.  While the crashing waves, blowing sea breeze, and the beaming moon can be the perfect setting for a wedding reception, the key point of entertainment for the night is always the music.
Beach weddings are fun. There is no denying that, but the first dance at weddings are something of emotion, sentiment and joy. When they're accompanied with the right beach music…it's sure to make memories that live well beyond the last song. 
Kiss the Girl from the Disney classic, The Little Mermaid, is not only a classic but, an often underutilized first dance song. It brings back childhood memories and the emotions most couples feel when they experience their first kiss together. Plus, who doesn't love a little peer pressure at a wedding to kiss the bride once again?
Is this Love by Bob Marley has a reggae & Jamaican rhythm, which is suiting for any beach wedding. The lyrics are simple; the lyrics sing of love and wanting to spend their life with the one they love. That can speak to anyone on their wedding day.
Somewhere Over the Rainbow sung by Hawaiian Israel Kamakawiwo'ole. The ukulele and island tune remind us of what it means to dream big and take in the beauty of the world.
Somewhere Beyond the Sea by Frank Sinatra is a beach wedding song for the must play list, even if it's not your first dance. We love this song for beach wedding first dances because it's not only a classic but also it's a love song classic. Frank Sinatra will never go out of style and his music cannot be overplayed.
Sailing by Christopher Cross, while not a traditional first dance song it does adhere to our tropical theme and the lyrics encourage a fresh outlook on life and the future to come. 
You should definitely select a first dance song that speaks to you and your significant other's relationship and outlook of life. No one says your beach wedding's first dance song needs to be a slow ballad. If Escape (The Piña Colada Song) is more your speed, then dance to it. That's the best part about selecting your first dance song, it is all about you, your future spouse and your love for each other.
If you're considering a beachfront wedding venue, most beachfront wedding venues have a luxurious patio ideal for your reception. You'll still get the ocean waves crashing in the backdrop, but without the sand between your toes. It's truly a win-win! If this sounds like the perfect venue for your wedding, then we welcome you to check out our luxury beachfront wedding venue accommodations. At Luxury Lodging by Laura, we are able to accommodate all beach weddings, including those on the sand, near (or even in) the water, and on our upgraded decks and patios.