7 Amazing Beach Wedding Signature Cocktails That Will Make Waves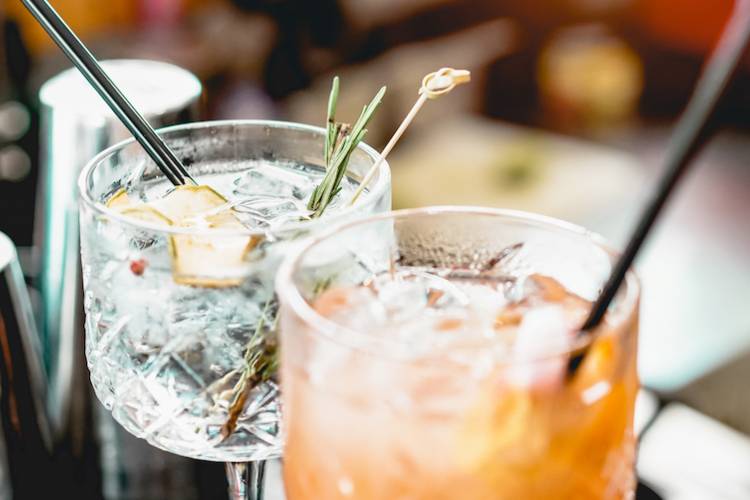 Relaxation. Tranquility. Serenity. You chose a beach wedding because you wanted something laid-back, a miniature vacation—an event that simultaneously evokes the peace of the waves and a smidgen of childhood play by the shore.
Thing is, though, serenity is turning into a challenge. Determining your signature cocktail has become rather difficult. Warm sand, summer sun, and romance as the stars bloom above the sea… you need a signature cocktail that represents your union and your locale both. Where to start?
Don't worry—be happy! We're rushing to the rescue here with our list of the top 7 signature cocktails for beach weddings. Kick back in a hammock and take a look at some of our favorite summer drinks…
Blueberry Ginger Mule
Moscow Mules? Sign us up immediately. Moscow Mules with ginger beer and blueberry cordial? There's nothing tastier we can even imagine. We're positive this little twist on a classic will delight the guests at your beach wedding. 
Happily Ever After
Your wedding is the joyous beginning to your personal fairytale, so we suggest celebrating with this signature cocktail. Kiwi fruit, cucumbers, and Lucid absinthe—the Happily Ever After is a magnificent, dreamlike drink for happy occasions just like yours.
The First Dance
Imagine a talented bartender captured, in a drink, the exact emotion you experience when you look at your newly wedded partner for the first time from across the dance floor. It's all butterflies in stomachs and surges of wonder, right? Lime juice, rum, triple sec, and watermelon chunks—with a hint of cayenne pepper—will ensure your guests feel the same way.
Blackberry Whiskey Lemonade
We think whiskey is already the most perfect drink known to man, but somehow, some way, this beach wedding signature cocktail is even more perfect. How does it work? Easy: just throw a little whiskey around with fresh blackberries, lemon juice, sugar…you know, all the best things in life.
Dragon Bramble
You have a beach wedding, not a Game of Thrones wedding, but hear us out—this is something special. Gin, lemon juice, blueberry simple syrup, and dragon fruit purée form the calming drink known as the Dragon Bramble. Despite its name, though, it is a signature cocktail your guests will remember for its subtlety.
Cantaloupe Tea Daiquiri
Vodka. Tea. Cantaloupe. Coconut milk. Lemon juice. These five ingredients come together in an utterly perfect concoction that conjures lounge chairs and laughter with friends. We really, truly appreciate tea-based signature cocktails, especially for beach weddings.
Green Iced Tea
The green iced tea is suspiciously simple: it's ginger lemon tea, cucumber juice, lemon juice, and—the main event—tequila. Serve it to your guests with a lime slice on the rocks, though, and it'll move them.
There are myriad options for beach wedding signature cocktails…
Nonetheless, we hope we took some of the guesswork and stress away with our recommendations. A wedding like yours must be special, after all—so why not contact us and discover how else we can bring your fantasies to life?